The Wildlife Defenders Program is a wildlife education outreach group run by our staff and day program members.  As part of their rehabilitation, members are trained in the handling and care of live native and exotic animals, birds, reptiles and more!
The Wildlife Defenders visit schools, veteran, youth and senior groups, nursing homes, and community events to share information about their animal ambassadors and encourage environmental and wildlife conservation awareness. Reserve your one of a kind Wildlife Defenders presentation today!
We are a USDA Licensed and Insured Program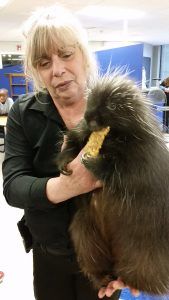 If you would like to learn more about the Wildlife Defenders, or schedule your own class, visit the Wildlife Defenders Website.
---
---
---